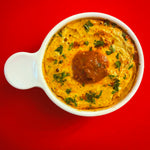 Roasted Chalsa Turmeric Hummus Serving Size : 4-8



Ingredients :

1. 2 cans of chickpea or garbanzo beans (15.5oz)

2. 3 cloves of roasted garlic (medium in size)*

3. ¾ cup of Tahini ( Krinos Tahini)

4. 1-1.5 teaspoon of cumin

5. 3 tablespoons of olive oil

6. Handful of fresh chopped parsley

7. 1 teaspoon of salt

8. ½ cup of fresh squeezed lemon juice (3-4 lemons)

9. 5 tablespoons of Chalsa  (1 tablespoon to allot  as a garnish and 1 will be used in initial roasting) 3 will be incorporated within processing.

10. 2 teaspoons of fresh shaved turmeric

11. 1 Shallot

12. Fresh cracked ground pepper

Steps :

1. Approximately, 8-12 hours prior to making the hummus, strain the chickpeas and place in a bowl with ice water. Add 1 teaspoon of baking soda and let settle. This allows the hummus concoction to be creamy as the skin of the chickpeas will be removed overnight.

2. Place garlic cloves in tinfoil, drizzle olive oil and season with pepper/salt. Place in a conventional oven for 25 minutes at 420 degrees fahrenheit. Take roasted garlic out and set aside.

3. Lightly oil a pan, and on medium high heat;  add diced shallots, drained chickpeas, parsley, turmeric  and 1 tablespoon of chalsa. Additionally, add cumin. Roast until chickpeas become translucent (approximately 5-7 mins)

4. In a food processor add roasted chickpeas and squeeze roasted  garlic cloves that previously was set aside. Add ¾ cup of tahini, 3 tablespoons of chalsa,  salt/pepper and the lemon juice.

5. As the processor runs slowly begin drizzling in the olive oil.

6. Taste and add salt & pepper if warranted.


7.  If hummus still has a strong sesame (tahini taste) add more Chalsa until flavor is balanced along with extra olive oil if needed

8. Garnish with 1 tablespoon of Chalsa, paprika, and parsley 

9. Serve with fresh warm pita and enjoy!