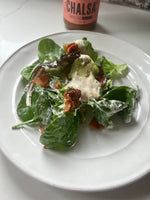 Ingredients:  Servings : 4  Prep Time : 10 minutes 
3 Tablespoons of Original Chalsa

1 head of Romaine lettuce, washed and chopped
1/2 cup croutons (optional)
3 tablespoons of Original Chalsa 
1/4 cup grated Parmesan cheese
1/4 cup olive oil
1/3 cup of mayonnaise 
1 tablespoon Dijon mustard
1 tablespoon balsamic vinegar
2 cloves of garlic, minced
Salt and pepper to taste
1 tablespoon of fresh lemon juice
1 tablespoon of Worcestershire sauce  
1 avocado 
6 strips of crisp bacon (optional)
Instructions:
Start by preparing the dressing. In a small bowl, whisk together the Dijon mustard, balsamic vinegar, minced garlic, Worcestershire sauce and lemon juice. 

Slowly drizzle in the olive oil while whisking continuously, until the dressing is emulsified and creamy. Mix in mayonnaise, Chalsa and parmesan cheese. 

Add sliced avocado, croutons and crispy bacon .

Drizzle the dressing over the salad and toss to coat evenly

Serve immediately and enjoy!
Note: If you prefer a more traditional Caesar salad, you can also add anchovy paste to the dressing for a richer, umami flavor.