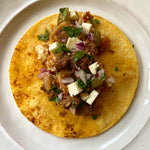 Serving Size :  10 Tacos  Prep Time : 4 Hours In Chalsa Marinade Cook Time 20 Minutes 

Ingredients : 

1. Brisket (quarter pound suggested per serving)
2. Mango Pineapple Chalsa (Mild or Spicy)
3. Half a bunch of cilantro 
4. 1 red onion 
5. 1 pack of corn tortillas
6. 2 eggs per serving 
7. 6 garlic cloves  
8. 3 roma tomatoes 
9. 1 pack of cotija cheese 
10. 1 half of a green bell pepper 
11. 1 half of red bell pepper 


Procedure : 

1. Place brisket in zip lock bag and pour roughly 1 half of Mango Pineapple Chalsa (mild or spicy based on your preference) and place proceed to place in fridge for four hours. Remove 1 hour prior cooking in skillet. 
2.  Dice red onion, garlic, cilantro, bell peppers and tomatoes and set to side 
3. Lightly oil a skillet and proceed to simmer veggies on medium. 
4. Add brisket and proceed to let concoction simmer for 15  minutes. 
5. Whisk eggs in bowl and add to skillet 

6. Remove and place in bowl. 

7. On medium- low place corn tortillas in same skillet in order to crisp and obtain a brown color. 

8. Garnish with cilantro, red onion and cotija cheese 

9. Enjoy