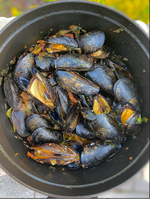 Serving Size : 3-5 People  Prep + Cook Time  : 30 Minutes 

Ingredients : 


1 pack of chorizo 
3 shallots 
8 cloves of garlic 
A half a bunch of cilantro 
6 Tablespoons of Original Chalsa (Mild or Spicy) 
1/2 stick of unsalted butter 
 Half a cup of white wine (pinot or white zinfandel)  
1 pound of mussels  
9.  Salt/Pepper 
Procedure : 
 Place oysters in a strainer and proceed to run under cold water. 
Dice shallots, cilantro and garlic and set to side
Cut chorizo into small square pieces 
 Over medium high heat place chorizo in pot ( note oil is not needed at this juncture since the chorizo will cook in its own fat) 
Let chorizo cook for approximately 8-10 minutes until it has a crisp texture
lower heat to medium-low and place shallots, cilantro and garlic into pot. 
Add Chalsa and let concoction turn translucent. The aroma of the aforementioned  vegetables will begin to smell heavenly 
Add wine and raise temperature to medium high until it reduces. Be vigilant to ensure it does not burn. this should take roughly 2 mins. 
Decrease temperature to medium low and add mussels! 
Add butter and a bit more Chalsa if you would like and begin to stir the pot. Place cover on pot. 
Toast your favorite bread to soak up all the flavor and serve!