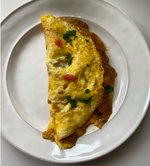 Cooking Time ; 5 Minutes   Ingredients ;


3 eggs 
1 tsp of butter or cooking spray for pan 
4 tablespoons of Chalsa (Any variant will work, however for this recipe Mango Pineapple was used) 



Recipe : 


1. Lightly butter a small pan and heat on medium

2. Whip up three eggs

3. Pour eggs into pan and add 4 tablespoons of Chalsa in the middle of the mixture.

4. Flip and serve!


Please note Just Egg can be used as a substitute for vegan customers.